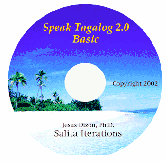 Speak Tagalog Basic is a basic tutorial.
Topics include pronunciation, grammar, vocabulary, pattern sentences.
Pattern sentences include greetings, requests, interrogatives, measurements, comparisons, demonstratives, singular and plural forms, positive and negative forms, verb forms, cause and effect forms, conditional forms, and relative forms.
The tutorial shows Tagalog and English text of the lessons.
$50